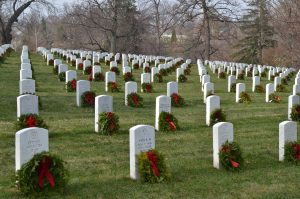 This weekend is the storied Wreaths Across America event in which volunteers lay wreaths at Arlington National Cemetery and across the nation for veterans. During the busy holiday season, this event provides a moment to reflect and honor veterans.
The tradition began with a Maine tree farmer who donated wreaths to Arlington National Cemetery in 1992. From there, his act of honoring veterans has grown to a nationwide network of civic organizations, trucking industry support, and close to 2,000,000 volunteers that place nearly 2,000,000 wreaths at Arlington National Cemetery and over 1,500 locations nationwide and overseas including Normandy.
Learn how you can volunteer for this event here.
Please follow and like us: